Treatment of Heel Pain and Plantar Fasciitis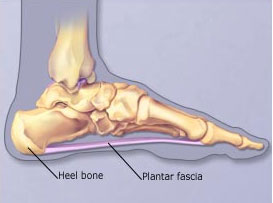 *Please note that Heel Spurs has been given a special 10% off discount for the below products for all our visitors only, the unique discount code is "ABRT10". Enter this code into the coupon code section during the checkout and a 10% discount will be deducted from your order.
Taping
Athletic tape is applied to the plantar fascia and works be reducing tension by preventing the fascia from stretching.The tape is strapped from the heel to the base of the toes. Tension is maintained by the tape thus allowing the fascia to rest and heal. The tape has to stick to the skin for it to work due to the tension being transferred through to the skin. Specific athletic tape should be used. Podiatrists recommend that the tape be applied every morning and removed every evening to allow the skin to breathe . View Pictures of taping.

Shoe Inserts
Shoe inserts are by far the most effective treatment used to manage plantar fasciitis. They help reduce stress at key weight points. Keep each foot properly aligned and cradle, which stabilizes your heels. A strategically placed heel insert made of poron foam absorbs the pounding foot shock of each step.

Heel pain sufferers find extra support in Dr Foot Pro Insoles
If you suffer from plantar fascitis or heel pain, you've found a friend in these ultra-supportive foot supports. The soft cover and the flexible EVA base material create an excellent arch support which immediately treats the cause of the heel pain
Silicone Heel Cups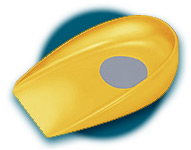 This product combines a pressure relieving heel spur cavity with a well designed heel cup. Absorbs impact at heel strike. Allows the heel area to be in virtual suspension with the built in circular hot spot. Ideal for the treatment of Heel Spurs and early morning heel pain.
Rest
Initially you should decrease any strenuous activities such as sports and long walks to allow inflammation in the fascia to decrease.
Ice and Heat
Proven therapy for plantar fasciitis by alternating application of heat and cold coupled with massage works wonders to relieve pain, reduce swelling and promote healing. Use ice pack in morning and heat pack in the evening.

When feet are swollen, sore or you're suffering from chronic heel pain, an application of cold and warmth assists in the healing process.
Hot/Cold Packs provide therapy that's constantly in touch with sore muscles, tendons and tissue. Microwave or freeze the packs depending on the desired treatment cold therapy is especially beneficial in the treatment of plantar fasciitis (heel pain). Apply cold therapy initially and heat therapy when the heel is in the healing phase.
Night Splints
Heel pain night splints maintain the ankle in a upward position and toe extension, creating a constant mild stretch of the plantar fascia that allows it to heal at a functional length. Please view the night splint section for further information.

The FXT plantar fasciitis splint fits like a sock, gives greater freedom.
Speed up the heeling process of plantar fasciitis with this low profile, thermal lined bootie from Swede-O. The PF FXT allows you to sleep comfortably while gently stretching out the plantar fascia, the band of connective tissue that runs from the heel to the toe. Slip on the bootie and adjust the dorsal flexion (amount of tension) to pull back the toes towards the ankle.
Stretching
One of the most effective treatment options for plantar fasciitis is stretching. Tightness in the plantar fascia occurs if the achilles tendon and calf muscles tension increases. Tightening in these muscles increases dorsi flexion (upward movement) of the large toe which stretches the plantar fascia causing it to inflame.
Therefore it makes sense that reduction of the tightness of the achilles tendon and calf muscles will have a positive effect on heel pain.
Example Stretch
Plantar fascia-specific stretch. Patient crosses affected foot over other leg, grasps the base of toes, and pulls the toes back towards the shin, until a stretch in the arch is felt. The stretch is held for 10 seconds and repeated. Three sets of 10 repetitions are performed daily.

The Pro Stretch helps control heel pain in minutes!
Three 30-second step stretches work wonders for heel pain
Step right up to maximize the benefits of safe, effective stretching to control heel pain and discomfort. Developed by sports professionals for everyone, the patented rocker design of the pro stretch automatically holds the foot in the optimal position for proper stretching.
Heel Pain Massagers
For those with heel pain and plantar fasciitis – once your pain and swelling have begun to subside, perform this static stretch three times a day. Continue to use this stretch to prevent recurrence of plantar fasciitis and heel spur.
Time Required: 5 minutes
Here's How:
1. Sit in a chair or the edge of a bed.
2. Place your foot on the Heel Pain Massager
3. Press the foot into the Heel Pain Massager and roll the foot over the entire length.
4. Roll for 30-60 seconds. Repeat five times.
Tip:
Chill the Heel Pain Massager overnight and use in the morning for pain relief.
Designed by a physical therapist, this unique massager provides much-needed relief to those with plantar fasciitis, heel spurs and aching feet. The secret is the innovative shape and knobby texture. Slowly roll your feet over the sphere for a deep tissue massage, applying pressure where you need it to relieve arch and heel pain. Warm up or chill the massager for soothing hot / cold therapy.
Corticosteroid Injections
Limited evidence supports the use of corticosteroid injections to manage plantar fasciitis. I have known patients that have had a corticosteriod injections in the heel by their doctor and they have reported extreme pain with very little benefit.
Emu Muscle and Joint Gel

This gel, blended with Black pepper and Eucalyptus Essential Oil is excellent for relieving muscular aches such as heel pain.
Directions: gently rub in a thin coat of gel to the affected area. Repeat up to four times daily with 3-4 hours between applications. If symptoms persist, consult a health professional.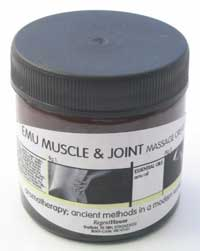 Extra corporeal Shock Wave Therapy (ESWT)
A relatively new treatment option for heel pain is ESWT which involves the usage of high intensity sound waves to cause neovascularization (tissue repair). ESWT should be used in conjunction with other conservative options such as stretching, orthotics, activity modifications and maintaining a healthy weight. The success of ESWT is difficult to establish due to different levels of intensity being use by different practitioners. However, anecdotal evidence suggests that this treatment option can be successful, ESWT is not available in all podiatrist surgeries and is generally only available in specialist clinics.
Casting
Casting is rarely a treatment option for heel pain. Podiatrists have applied well-padded fiberglass walking casts with the ankle in a neutral to slight dorsi flexion (upward position). There has been many long term studies carried out on this treatment option but overall casting works in a similar fashion to plantar fasciitis night splints.
Surgery
Surgery for plantar fasciitis should be the last option as success rates can be as low as 37% and as high as 60%. Click her to read more about heel pain surgery