No Cute Shoes!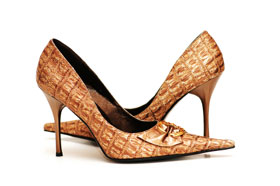 When women are at work or even at home it is important that you are wearing the right shoes. Tight, high heeled shoes take their toll on your feet. Love them or hate them, high-heeled shoes are part of the everyday lives of many women and are a fashion staple. Dress shoes for women are big business, but they can lead to big problems for the feet, ankles, knees, hips and back. Yet, it is difficult for women in the workplace to wear a more comfortable shoe because the expectation is that of a professional attire that requires shoes with a heel.

If you are suffering from headaches or tooth aches you would go and see your dentist or doctor but for some reason women accept that consequences of tight fitting footwear and live with aching sore feet.

High heels place a disproportionate amount of stress and pressure on the ball of the foot and tend to place greater pressure on the plantar fascia which leads to heel pain. They change your natural gait, which throws off your body's alignment. Wearing them constantly can shorten the the Achilles tendon and calf muscles which is a underlying causing to heel pain. The key to comfort? Shoes that allow the foot to spread when standing, and cushioning under the ball of the foot.
Once you are ready for a high-heeled shoe, look for heels that are not higher than 1 1/2 inches, especially if you have to wear the shoes for several hours.
The area where the toes sit in the high-heeled shoes is called the toe box. You want the toe box to be as wide as possible to accommodate all the toes. You can also try putting special support padding in your shoes, but this will not work well in shoes with a narrow toe box.

Heel pain is one of the most common condition a podiatrist sees in clinic. Various treatments are available such as taping, exercises, orthotics, steroid injections, acupuncture and night splints.