Menu
Home
Introduction
Heel Pain Causes
Heel Pain Symptoms
Treatment Options
Prognosis
Other Articles
Why Stretch The Calf?
Diagnosing Heel Pain
Heel Anatomy
Gait Cycle
No Cute Shoes!
Night Splints
Plantar Fasciitis Surgery
ESWT Therapy
Talking to Patients
Examining Patients
Links
Heel Pain Treatment Options

The FXT plantar fasciitis splint fits like a sock, gives greater freedom.
Speed up the heeling process of plantar fasciitis. The FXT allows you to sleep comfortably while gently stretching out the plantar fascia, the band of connective tissue that runs from the heel to the toe.

When heels are sore or you're suffering from chronic heel pain, an application of cold and/or hot assists in the healing process.
Hot/Cold Packs provide therapy that's constantly in touch with sore muscles, tendons and tissue. Microwave or freeze the packs depending on the desired treatment cold therapy is especially beneficial in the treatment of plantar fasciitis (heel pain). Apply cold therapy in the mornings and heat therapy in the evenings.
Introduction to Heel Pain and Plantar Fasciitis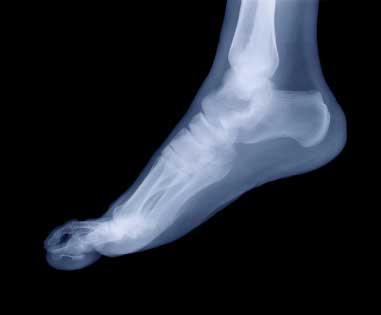 The most common causes of heel pain is a condition called plantar fasciitis. Plantar fasciitis is the inflammation of the plantar fascia. The plantar fascia is a broad band of tissue which originates from the heel, runs along the sole of the foot and connects to the toes.
The plantar fascia works like a rubber band between the heel and the ball of your foot to form the arch of your foot. If the band is short, you'll have a high arch, and if it's long, you'll have a low arch, what some people call flat feet. A pad of fat in your heel covers the plantar fascia to help absorb the shock of walking. Plantar fasciitis is often referred to as a heel spur which is a calcium deposit in the plantar fascia attachment. The heel spur does not cause pain.
Recommended Products
*Please note that Heel Spurs has been given a special 10% off discount for the below products for all our visitors only, the unique discount code is "ABRT10". Enter this code into the coupon code section during the checkout and a 10% discount will be deducted from your order.
Review:
Treat those sore aching heels.
Do you suffer from the morning heel pain or heel spurs? If so, the Heel Pain products range is for you. Our 100% super-shock absorbing soft silicone heel products can reduce your heel pain instantly. The result? Relief. The surprise? The price. Our heel products are both effective and affordable.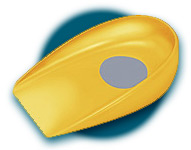 Read more about Heel pain products from £10 with Free Postage and Packaging
See all products in heel pain section
Customer Review
"I have suffered terribly with early morning heel pain and after I have rested for a little while. The heel used to throb during the day and I was always in a bad mood! Since I have been using your silicone heel cups and your sports insoles for about 4 months I have been pain free and happy!
Thanking you."
James Bricker, California
Other Treatment Options